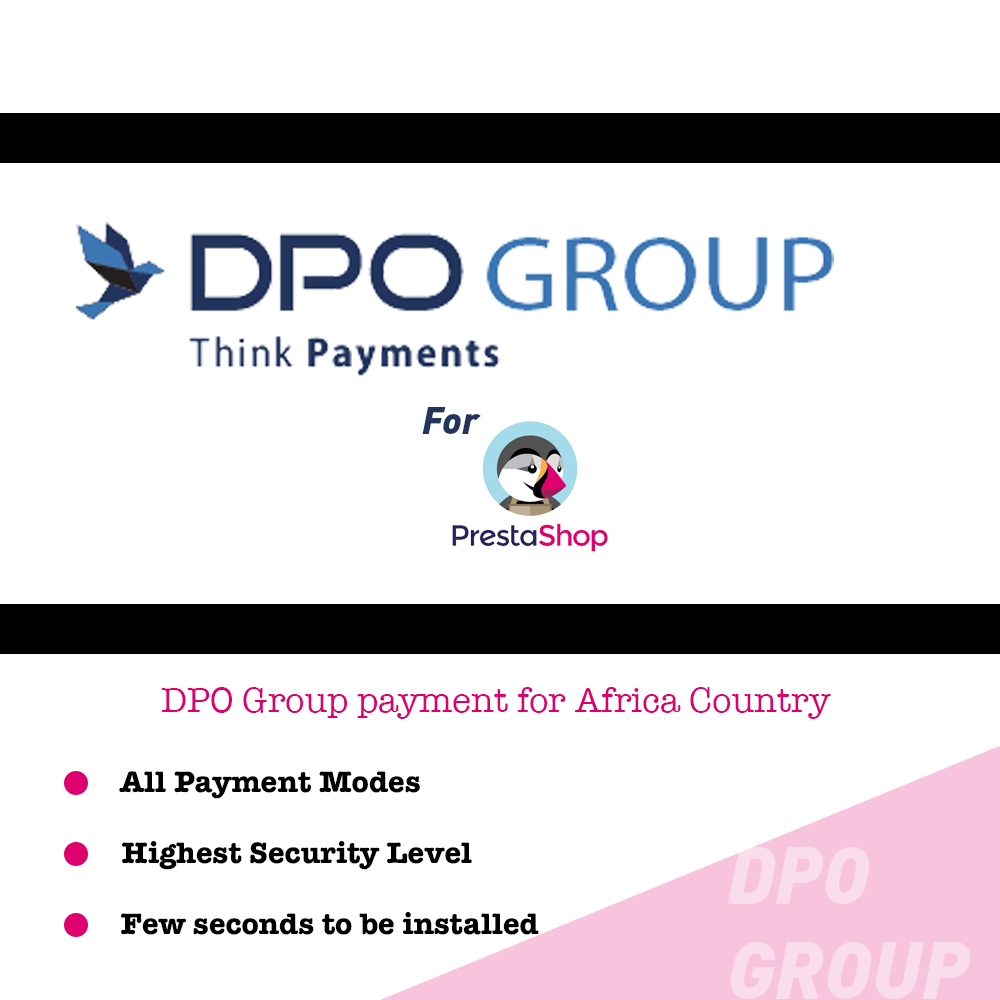 DPO's highly secure payment platform makes payments simple by allowing businesses to accept credit cards, mobile payments and cross-border payments.
Offer your customers seamless checkout with secure eCommerce payments processing through integration of DPO's advanced payment platform with the leading shopping carts. Accept all currencies for increased global reach.
Support mobile payments for prestashop :
Airtel
mPesa
MTN
Pesa
Tigo
Voda
Mascom Wireless (an affiliate of South Africa's MTN)
Orange Botswana
BTC
Vodafone
Millicom (Tigo)
Glo Ghana
Orange Money
Moov
etc...
Support Africa payment:
Angola
     Benin
     Botswana
     Burkina Faso
     Burundi
     Cabo Verde
     Cameroon
     Central African Rep
     Comoros
     Congo
     Cote d'ivoire
     DR Congo
     Djibouti
     Egypt
     Equatorial Guniea
     Ethiopia
     Gabon
     Gambia
     Ghana
     Guinea
     Guinea-Bissau
     Kenya
     Lesotho
     Madagascar
     Malawi
     Mali
     Mauritius
     Mauritania
     Morocco
     Mozambique
     Namibia
     Nigeria
     Rwanda
     Sao Tome & Principe
     Senegal
     Seychelles
     South Africa
     South Sudan
     Swaziland
     Tanzania
     Togo
     Tunisia
     Uganda
     Zambia
    Zanzibar
     Zimbabwe
Features
Accept all currencies
including cross-border payments, all major credit / debit / prepaid cards
Secure payment
easy to config
refund function