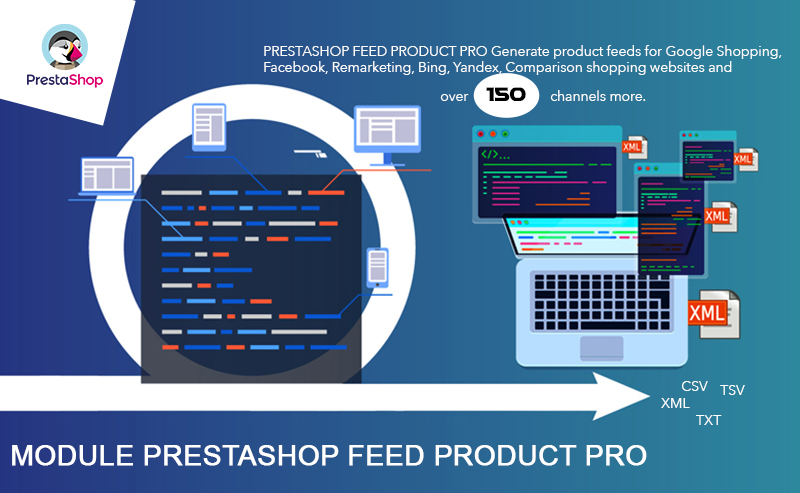 PRESTASHOP FEED PRODUCT PRO Generate product feeds for Google Shopping, Facebook, Remarketing, Bing, Yandex, Comparison shopping websites and over a 100 channels more.
v 1.0.0 (new):
Generate Prestahop product feeds for all your marketing channels such as Google Shopping, Google Dynamic Remarketing, Facebook Remarketing, Bing Ads, cdiscount, Billiger.de, Pricerunner, Vergelijk.nl and many more. We support more than 150 pre-defined templates included for marketplaces, comparison shopping engines and search engines.
FEATURES
Unlimited number of products;
Unlimited number of product feeds
> 150 pre-configured product feed channel-templates for all countries;
Create custom product feeds;
XML, CSV, TSV and TXT formats;
Multilanguage
Multi Currency
Intuitive interface;
Supports product combinaison;
Scheduled product feed refreshes: daily, twice-daily or every hour;
Supported file formats: XML, CSV,TXT and TSV;
Supports shipping zones, shipping classes and shipping cost
Filters and rules: set product filter and rules so only the right products end up in the product feed;
Category mapping: map your categories to those of other channels, such as Google Shopping;
Field / features mapping: map your features to channel attributes;
Create custom field names: create your own field names and fill them with static or dynamic values;
Add static field values to your product feeds;
Google Analytics support: add Google Analytics UTM parameters to your product feed and individual products.
Supports Cron Jobs Prestashop Module
Supports Avis Vérifiés (NetReviews) Prestashop Module
ALL support :
All countries

Google Shopping
Google Merchant Promotions Feed
Google Remarketing - DRM
Google DSA Feed
Google Local Products Feed
Google Local Products Inventory Feed
Google Product Review Feed
Bing Shopping
Facebook Dynamic Ads / Instagram Remarketing
Pinterest
Pinterest RSS Board

Custom Feed
Argentina
Australia

Catch.com.au
Wish.com
Kogan.com
Fruugoaustralia
Shopping.com
Myshopping
ShopMania
Polyvore.com

Belgium

Vergelijk.be
Comparer.be
Kieskeurig.be
Beslist.be
Bol.com

Brazil
Bulgaria
Canada

Incurvy
Kijiji
Polyvore.com
Stylight.ca

Chile
Czech Republic

Shop-mania.cz
Kelkoo.cz
Zbozi.cz
Shopalike.cz
Heureka.cz

Denmark

Adform
Smartly.io
Spartoo
Pricerunner
Shopalike
Miinto
Katoni

Finland

Adform
Smartly.io
Vertaa.fi
Prisjakt
Hintaseuranta
Spartoo

France

Connexity
Cdiscount
Fnac
Spartoo
ManoMano
Incurvy
Cherchons.com
Choozen.fr
Ciao.fr
Comparer.fr
Idealo.fr
Kelkoo.fr
LeGuide.fr
Priceminister.fr
Pricerunner.fr
ShopAlike.fr
ShopMania.fr
Shopping.com
Shopzilla.fr
Stylefruits.fr
Stylight.fr
Twenga.fr
Webmarchand.com

Germany

Connexity
Adform
AdRoll
Smartly.io
TheNextAd
Webgains
Crowdfox
Spartoo
Real.de
Incurvy.de
Allyouneed
Apomio
Billiger
Choozen
Ciao
Domodi
Fashiola
Geizhals
Guenstiger
Hood.de
Idealo.de
Kelkoo.de
Ladenzeile.de
Livingo.de
Medizinfuchs.de
Moebel.de
My Best Brands
Preis.de
Pricerunner.de
Rakuten.de
Restposten.de
Shopmania.de
Shopping.com
Shopzilla.de
Sparmedo.de
Stylefruits.de
Stylelounge.de
Stylight.de
Twenga.de
Wish.com

Greece
Hungary
India
Ireland
Italy

ShopAlike
Idealo.it
ShopMania
Trovaprezzi
Stylight
Spartoo
Kijiji
Wish.com

Japan
Latvia
Mexico
Netherlands

Vergelijk.nl
Kieskeurig.nl
Tweakers.nl
Fashionchick.nl
Kleding.nl
Hardware.info
Kelkoo.nl
Ciao-shopping.nl
Beslist.nl
Miinto
Bol.com
Fruugo.nl
Spartoo.nl
Ooshopping.nl
Adform
AdRoll
Smartly.io
TheNextAd
Daisycon huis & tuin

Norway
Poland

Adform
Cenowarka
Miinto
ShopAlike
ShopMania
Skapiec

Portugal

Spartoo
ShopMania
Kuantokusta

Romania
Russian Federation
Serbia
Slovakia
South Africa
Spain

Adform
Fruugoes
Spartoo
Kelkoo

Sweden

Adform
Spartoo
Kelkoo
Fyndiq
Pricerunner
Miinto
Prisjakt

Switzerland
Ukraine
United Kingdom

Adform
AdRoll
Connexity
Smartly.io
TheNextAd
Spartoo
Fruugouk
ManoMano
Choozen
Ciao
Dooyoo
Idealo
Kelkoo
Pricegrabber
Priceminister
Pricerunner
Pricespy
Rakuten
ShopMania
Shopping.com
Shopzilla
Skinflint
Stylight
Twenga
Wish.com

United States

Adform
AdRoll
Connexity
ShareASale
Smartly.io
TheNextAd
Fruugo
Polyvore
Pricegrabber
ShopMania
Shopping
Shopzilla
Stylight
Twenga
Yandex
Wish.com


Contact
Please
sign in
to contact this author.
great
★★★★★
"
great , easy and work fine
"
Leave a review