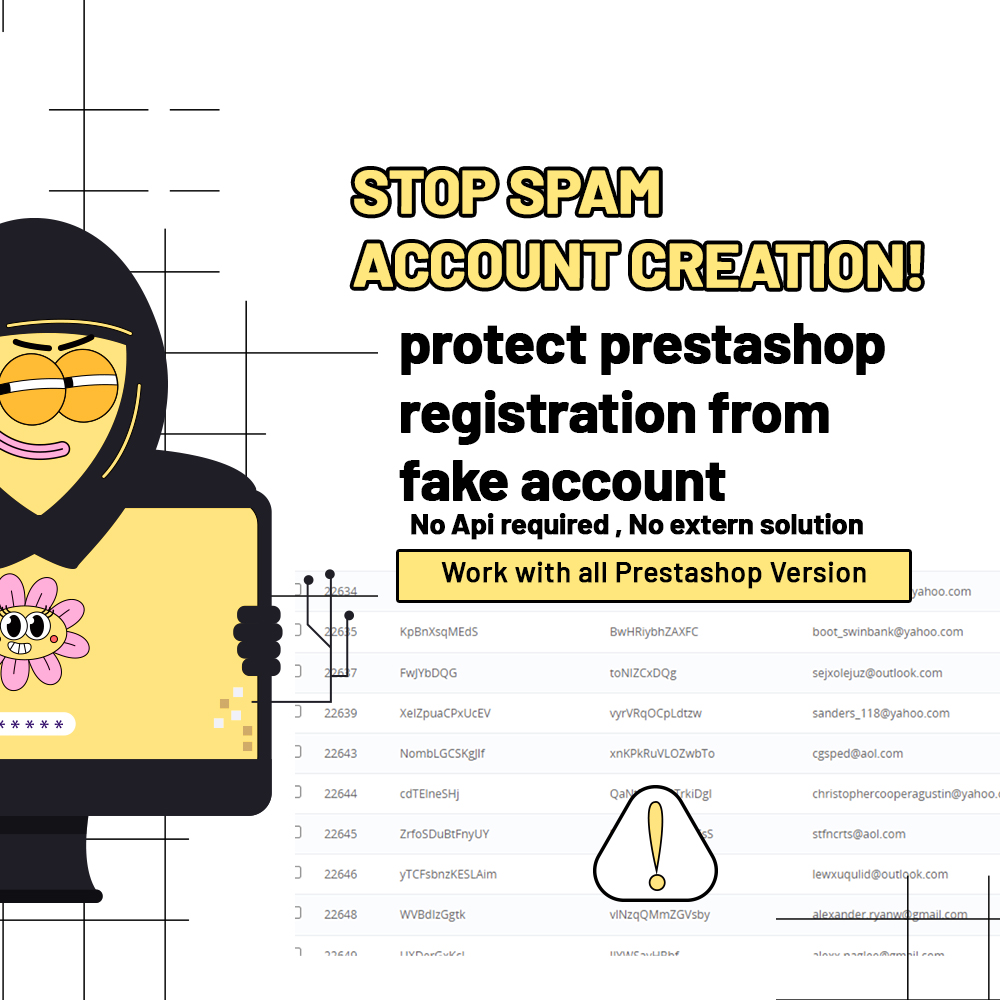 Tired of trying numerous solutions that still allow fake accounts in your prestashop ? It's time to say goodbye to unwanted intruders with our powerful Anti Unwanted Account Creations module for PrestaShop. Install our PrestaShop Anti-Spam Module today and bid farewell to spam registrations for good.
Features:
Genius Anti-Spam Account creation: Our module is designed to fend off spam registrations without complicating the registration process for your genuine customers. no captcha no externe api.
Said Good by to fake account prestashop : Tailor the module to fit your store's unique needs. You're in control of the level of protection that suits you best.
Simplicity detect Real Users: Your real customers will appreciate a straightforward and hassle-free registration process. No need to frustrate them with unnecessary hurdles.
PrestaShop Integration: We've made sure our module integrates seamlessly with your PrestaShop store. It's easy to set up and doesn't demand extensive technical knowledge.
Support and Updates: We're here for you. You can count on regular updates and dedicated support to keep your store shielded from evolving spam threats.
FAQs:
1. What does the Stop Spam Account Creation module do?
Our module is your guardian against spam account creations in PrestaShop. It ensures your store's security without using those complicated CAPTCHAs. No external APIs or solutions needed!
2. How does this module protect against spam registrations without CAPTCHAs?
We've created a easy system that keeps spam at bay while keeping your user registration process hassle-free for your genuine customers.
3. Will genuine users face complications during registration?
Not at all. We prioritize a simple and user-friendly registration process to ensure that your real customers don't encounter any unnecessary obstacles.
4. Is the module compatible with PrestaShop?
Absolutely! We've designed our module to seamlessly integrate with your PrestaShop store, making setup a breeze without the need for extensive technical know-how.
5. Do you offer support and updates for the module?
Yes, you can count on us. We provide ongoing updates and dedicated support to ensure your store remains safe and operates smoothly, no matter how spam threats evolve.
6.Tired of fake accounts making a comeback?
Look no further. Our powerful Anti-Spam module for PrestaShop is backed by a 6-month guarantee. If unwanted intruders return, we'll refund your investment.